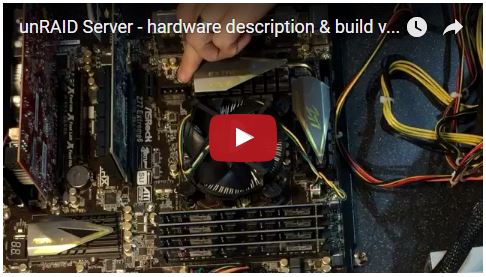 You'd better sit down, this is a long one!
After three weeks* of building / rebuilding, filming, editing, re-filming etc… I'm happy to present my second video – "unRAID server hardware intro and build vlog".
*not three weeks constantly, that would be stupid… three weeks when I've had the time  🙂
It turns out that building something, testing it, then tearing it down to re-build whilst filming takes time.  The final product, because I talk about the hardware, show the bench build, and then a guide on downloading, installing, and configuring unRAID… also takes time.
YouTube Video: https://youtu.be/F-x2af19FPU
00:20 – Three computers
00:47 – Hardware choices
01:15 – CPU
01:54 – Motherboard
02:56 – Memory
03:10 – unRAID
03:40 – Graphics cards
04:44 – PSU
04:47 – HDD's
04:59 – Download unRAID to USB drive
06:59 – Bench build
12:15 – BIOS settings & first boot
14:04 – unRAID initial config
20:45 – Setup complete
I'll be blogging more about my unRAID server soon!