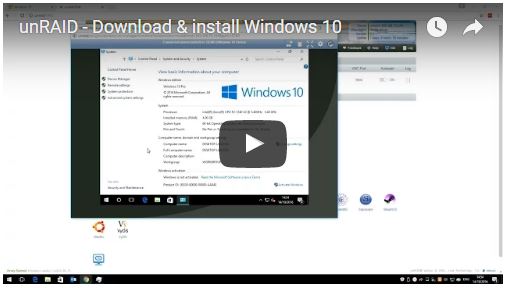 My next video has gone live, a walk-thru on downloading and installing Windows 10 on unRAID server 6.2.
You can watch the video here:
Downloading Windows 10 is easy, simply head over to this website, and depending on your running OS* you can either download the ISO direct or a tool which creates it for you.
The ISO download now includes the 2016 "anniversary" update, or build 1607.
* if you're running Windows you get to download a tool which downloads Windows 10 for you. If you're running another OS (Linux, MacOS etc…) you answer a couple of questions online and download the ISO direct.
It's easier to download the ISO direct to your unRAID server if you've setup an ISO's share.  If you've not changed the name of your server it'll be \\tower\isos
Simply type \\tower\isos (or your custom name if you've set one) when the Save As box appears. This way you won't need the extra step of moving the ISO to unRAID when it's downloaded.
Next in unRAID make sure you've got VM's enabled, and have downloaded the latest VertIO drivers (as of 6.2 you can do this direct from the unRAID GUI). Now create a Windows 10 VM from the template gallery, giving appropriate resources for memory, CPUs and disk space. Make sure to select the VertIO image and the Windows 10 image during creation.
In my video I selected VNC first for the graphics, and changed to a physical GPU later – however you can select a physical graphics card from the offset, as long as you also have a keyboard and mouse plugged into your unRAID server too.
Once the VM starts the installation process is almost the same as installing on a regular PC, you just need one additional step of selecting the storage drivers for the KVM SCSI bus during disk selection.
Once Windows has installed, you need to install 3 sets of drivers, then the Guest Agent (the equivelent of VMware Tools or Hyper-V tools).
Finally Lime Tech recommend some OS tweaks such as modifying Power Management, disabling hibernation and Defrag etc…  not just applicable to unRAID, I'd recommend doing these tweaks whatever the virtualisation platform you're using.
The video goes into a bit more detail, but if you've installed Windows before and have a reasonable OS install knowledge,  it should be no bother.
Remember you can try Windows 10 for a short time without an product activation key.  If you plan on using Windows 10 long term, you should buy a licence.